Fenty Beauty x Moroccan Spice Palette !!
Spice Things Up
New! Fenty Beauty x Moroccan Spice Palette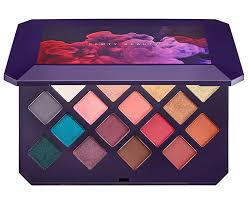 I'm convinced that listed underneath my bi-weekly tax withdrawals on my paychecks, you will find Robyn Fenty's 'Request for payment' for one of her many different money swaying ideas - and I know I can't be the only one. It seems like a portion of every pay period is going towards Queen Ri, and yet ... I'm still ok with it. Whether it is to see her in movies ( Oceans 8), to buy something sexy from her lingerie collection ( Savage Fenty), or to splurge on her show-stopping makeup line (Fenty Beauty), Rihanna is a non-stop hit. Just this week we were privy'ed to the release of her new Fenty Beauty Moroccan Spice Palette, Flyliner Liquid Eyeliner, and Profilter Eye primer, which so far, fans like myself can't keep their hands off of.
As if I don't have enough 'Fenty' in my life right now, when I heard Rihanna was having a three day pop-up in NYC on my days off from work, I had to check it out. I was super excited to get my hands on the new Moroccan Spice Palette because I figured the colors looked super pigmented in the model displays and as if they were colors that would best to compliment my skin tone - and boy did they!
The pop-up I attended was Located at the
Pearl Street Triangle , BK
on Thursday 6.28
The pop-up was executed on a beautiful summer day, sans the passing shower. The setup was super cozy with an intimate feel that captured the full Moroccan essence. From the hookah stands set up on Aladin inspired magic carpets, and sofa benches set up for quick rest breaks, Rihanna thought everything through. Across from the lounge/ hookah set-up were the three promo tents. There was a central tent that displayed all the palettes, primers, and eyeliners from the Morrocan spice line with workers ready to answer any questions you may have had. This is where I discovered that you could buy the palette in combination with a primer and eyeliner for a discounted rate.
Yasss hunty!
* Check out these few clips *
In the tents alongside the central promo tent were mini makeup studios where professional artist were giving out FREE makeup makeovers! RiRi, We don't deserve you! There was one Makeup Artist, Loso (@Losoontherise) who not only showed me a few techniques on applying eyeshadow but slayed the beautiful face of @Ladybug____ in the process, and I Just can't get enough of her hair color. it went perfect with the palette's added glow. It was A LOOK to say the least !
Because I lacked patience and didn't want to wait in line, I decided to play in a few of the palettes myself, and maybe applied too much... but darling, I was GLOWING! One thing was for sure - I was feelin' myself. I decided to preview my glow on an imaginary catwalk that led towards an actual lifesize palette display that featured a huge mirror. That was a super dope touch, by the way, RiRi. We, the fans, thank you, because I felt like I jumped right out of the pan of the palette so that display added the perfect aesthetic.
But Back to the Palette!
The galactic, smoke-powdered shell palette encases 16 shades of beautiful Moroccan themed rich colors. The palette features rich clay colors, from red/oranges, to mauves and metallics, that would blend well with any skin tone. The shades for this palette add the perfect matte or shimmer that will have you turning heads at any event!
Rihanna,
We will take your word for it and
" SPICE IT UP " this summer !!
- thank you for the green light sis
This Fenty Beauty Moroccan Spice Palette dropped on July 6th, 2018 retails for $59 and can be found at major stores such as FentyBeauty.com, Sephora, Harvey Nicols, and JC penny.
Shine Bright like a diamond ladies!
SJ